Outer Banks Elevator is currently no longer providing installation for cargo lifts, please contact Legacy Lifts for the installer near you on 888-297-615 or at www.legacylifts.com
Legacy Lifts is a Texas-based company manufacturing innovative, top-of-the-line residential cargo lifts, beach house lifts and grocery lifts that are sold, installed and serviced by local distributors.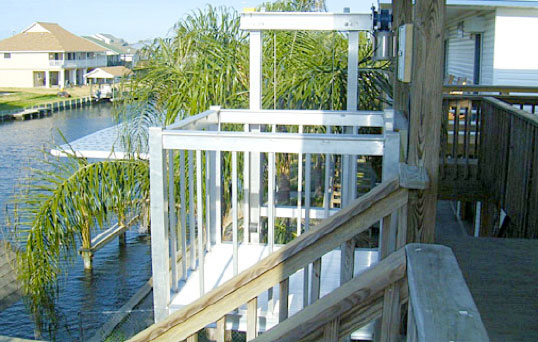 Legacy Lifts
Taking elevated living to the next level
"Life is better with a Legacy"
No more hauling bulky, heavy gear up the stairs!
Faster, Stronger, Sturdier Cargo Lifts
A Legacy Lift™ makes it effortless to transport up to 1000 lbs. from the ground level to the second story of your home. Whether it's everyday items like groceries and trash or heavy, bulkier items like luggage or gear – simply load your items onto the platform, press the
remote and let your Legacy Lift do the work for you. Your items will be safely lifted right where you want them.
A Legacy Lift™ can be mounted to any home or structure. Whether you live on the coast, a lake or up in the hills, our cargo lifts are the ultimate convenience if you're living with stairs. We have a team of highly skilled, local professionals to carry out the entire installation and customize your new lift as needed. Or, install your lift yourself if you're handy! With Legacy Lifts™, you'll enjoy high standards of quality, uncompromising safety, long term service and reliability.
Lift Features & Benefits
Dual mast design provides a safer, more stable lift
4 x 4 cargo cage w/ anti-skid flooring
1000-lb lifting capacity lets you lift more in less time
12 ft per minute lift speed for rapid lifting
Aluminum and stainless steel construction
Rugged design to withstand the elements
Stainless steel enclosed motor provides durability
Stainless steel aircraft cables with dual winders
Wireless lockable remote provides convenience and security
Sealed rotary limit switch for safe and smooth controlled stops
Gate can be installed in multiple positions
Attractive design
User friendly
Warranty
Our cargo lifts come with a
generous 5 year warranty
on the structural components and
1 year on the electrical components.